DIY dollar tree candy cane wreath from scratch. Are you looking for easy Christmas decorations that you can make with a few dollars or with stuff that you already have around the house? This farmhouse Christmas candy cane tutorial will help you learn how to make one of the sweetest festive decor in a matter of minutes.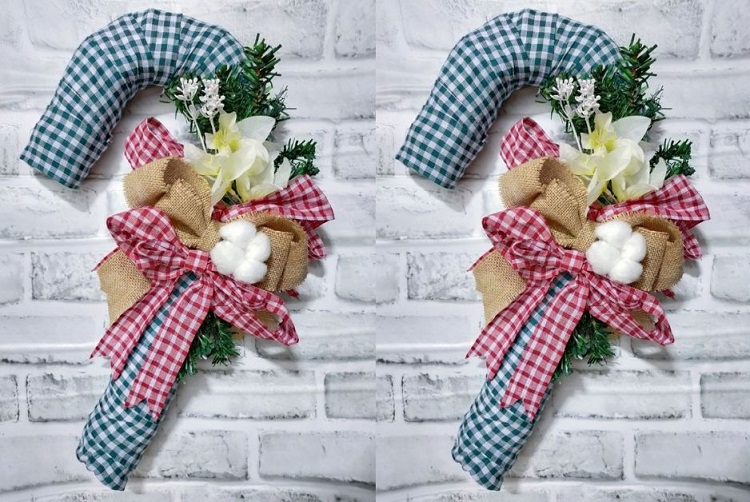 Get ready for Christmas with this amazing Candy Cane Craft. We're so excited to share this project with you because there's no better time of the year to get crafty than around Christmas.
Making your own dollar tree Christmas Candy cane wreath is super easy and the best thing about it is that is eco-conscious. You literally need cardboard, fabric, glue, and a few accessories to decorate the door wreath. Besides, this project is fun and will challenge your imagination a bit. So get ready to make your own Christmas door wreath from scratch.
If you prefer to watch the video tutorial, here is the link to our YouTube video. And don't forget to subscribe to get notifications when we publish new craft videos.
Related posts:
How to make a Scandinavian star ornament tutorial
DIY Japanese paper lantern step by step
DIY Santa bottle for Christmas decor step by step
DIY dollar tree candy cane wreath from scratch
So let's start the Step by Step Tutorial. The materials that you need for the Dollar tree Christmas Candy cane:
Cardboard/ Pencil/ Paper Cutter/ Lots of newspapers / Hot glue gun / Checked Ribbon(of your choice) /Ribbon for Bow / White flowers / Christmas tree branches / Cotton Flower / Masking Tape
You can take Candy Cane ribbon fabric, color, and design as per your choice.
And you can also attach a bow according to your choice. I used checked fabric and ribbon here, and also I have attached a jute ribbon.
Step 1.
First, choose the dimensions of the wreath and draw the shape of the candy cane on the cardboard.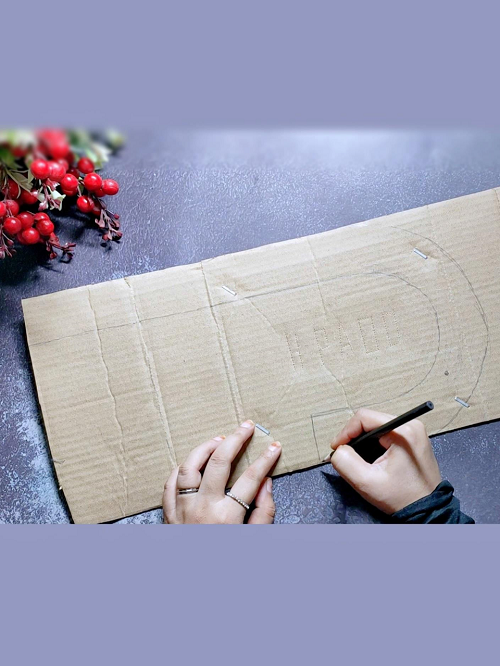 Cut another template of the candy cane wreath so you can double the base of the wreath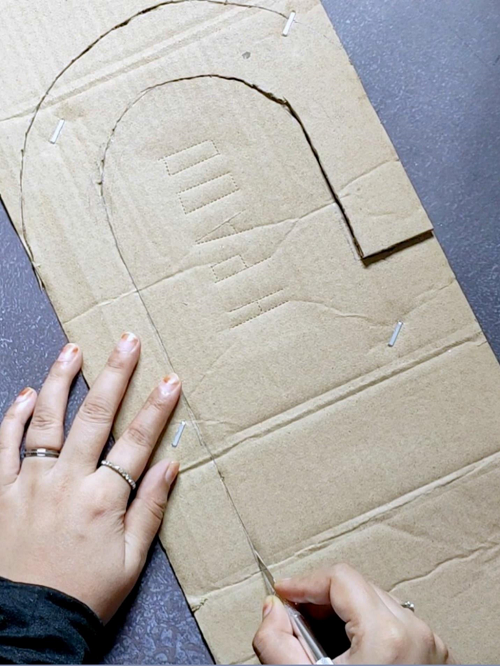 Now I have the template for the base of my candy cane wreath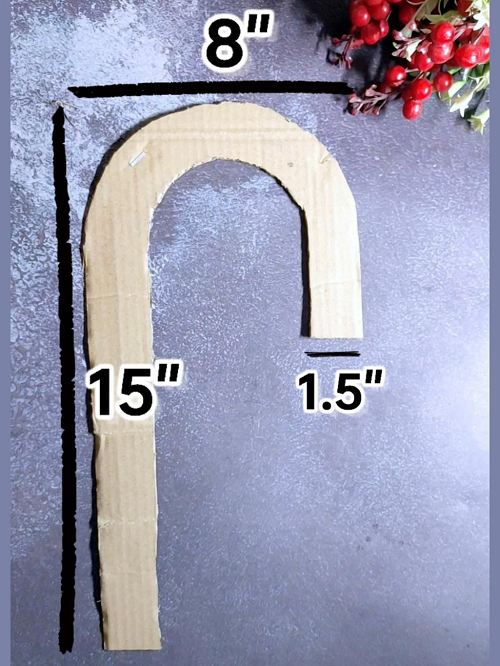 Step 2.
After shaping the cardboard properly, Roll the paper and wrapped in that cardboard shape with help of a glue gun. Wrap the candy cane shape with newspaper or paper to give it a fluffy and fuller look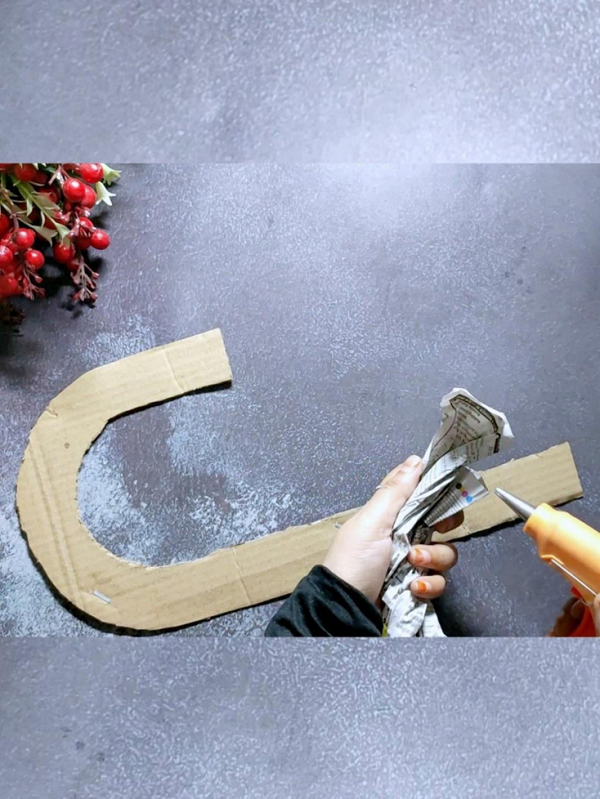 Continue until you cover the whole candy cane base with paper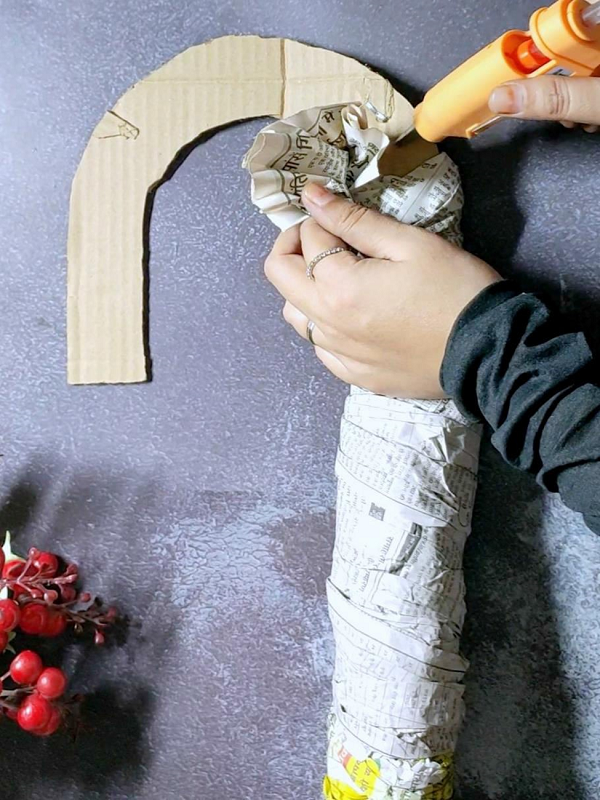 Step 3.
When the Candy Cane shape is well rounded with the help of newspaper, Now we will wrap it with masking tape.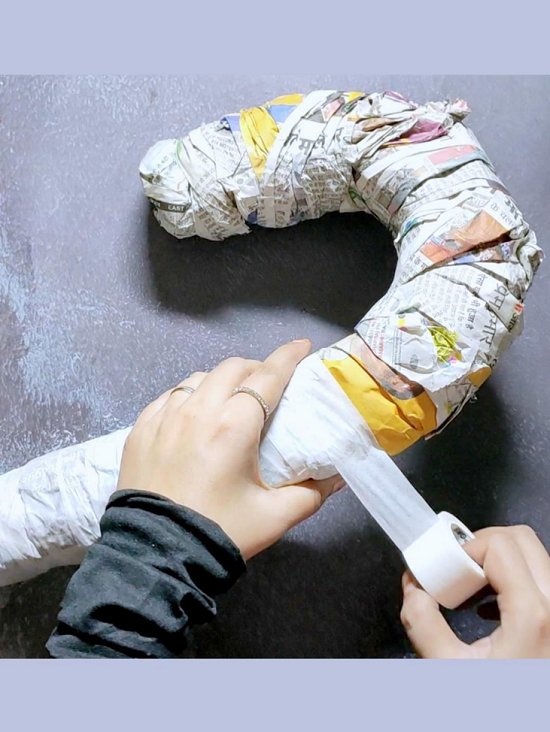 Step 4.
After wrapping the masking tape well, Now we can fully wrap it with the ribbon or fabric of our choice and give the Candy Cane final look.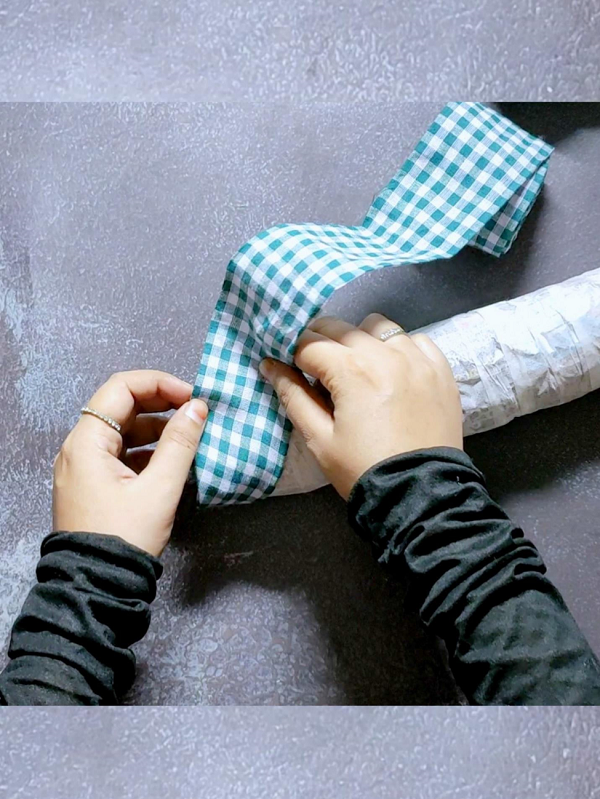 Your candy cane should look nice and neat when wrapped in the fabric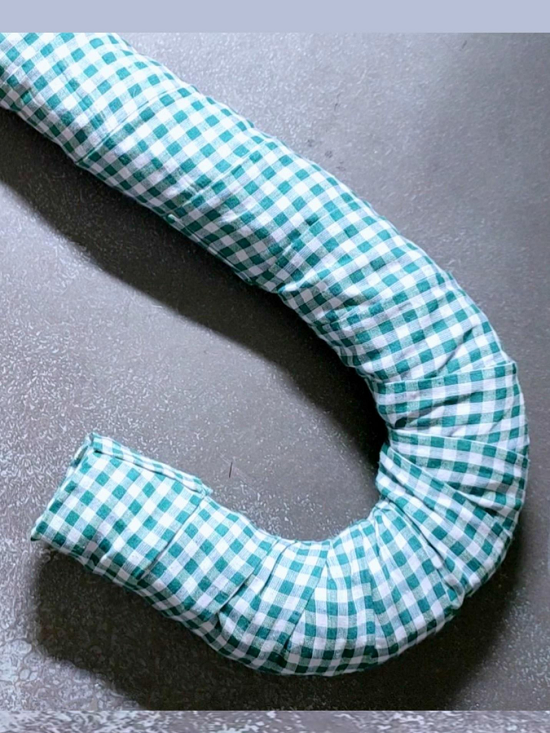 Step 5.
Now we will make 3 bows with ribbon. One bow from jute, and the other two bows with checked fabric. Below you can get a very quick and short tutorial to make the bow.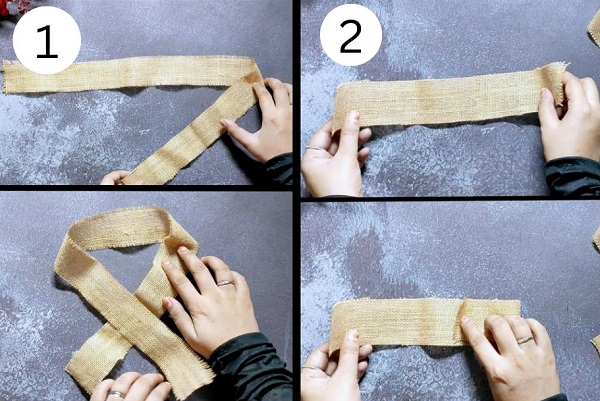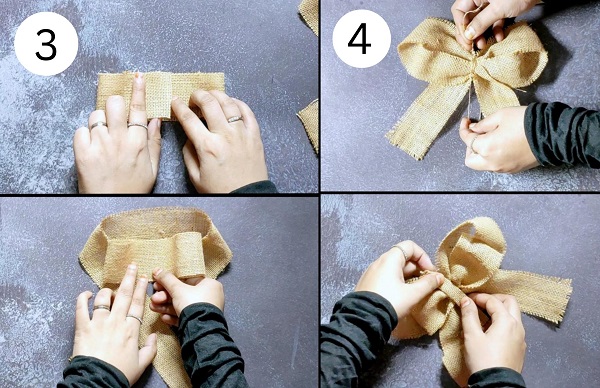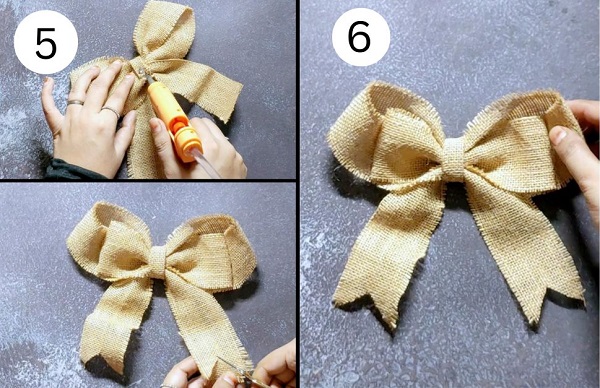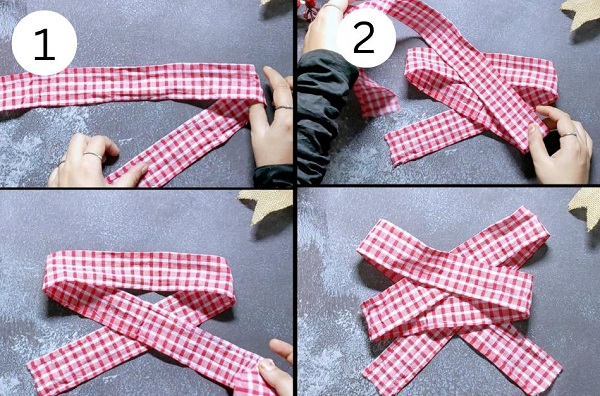 Now the bows for the dollar tree candy cane wreath are ready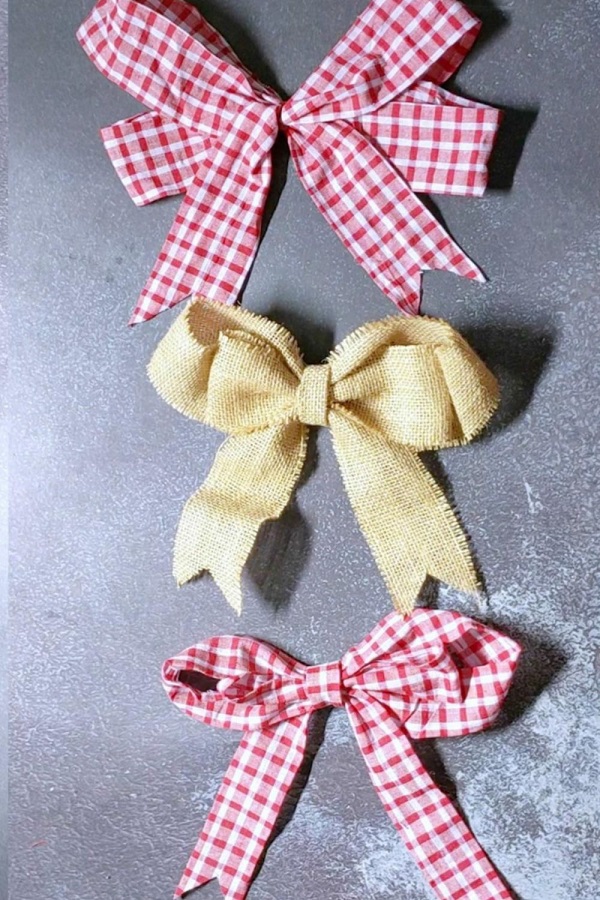 Step 6.
Next, we will glue all three bows on the Candy Cane with the help of the glue gun
Step 7.
Further, we can decorate the wreath with white flowers, cotton flowers, and Christmas tree branches if you like. If you want, you can add something else like artificial berries, pinecones, and bells, or leave it as it is if you want it simple. Now my Christmas Candy Cane is ready and yours?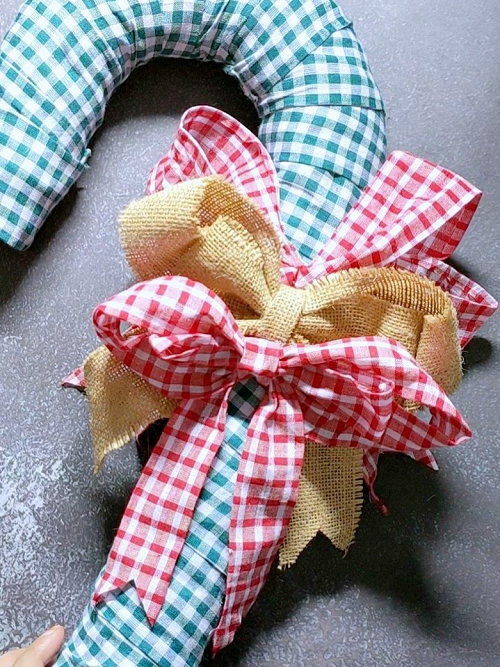 Now it is ready, I hope you will make one for your own Christmas decoration and share the finished product with me. Hope you enjoy the Candy Cane Step by Step tutorial.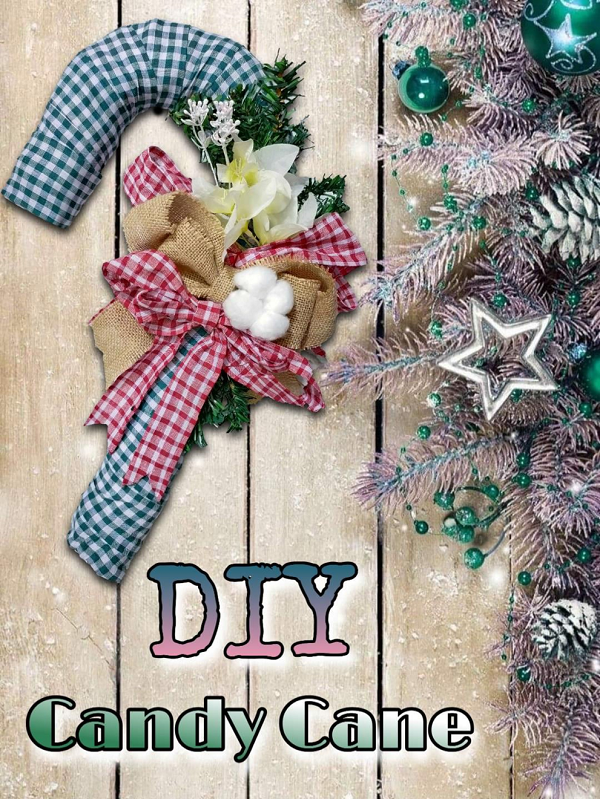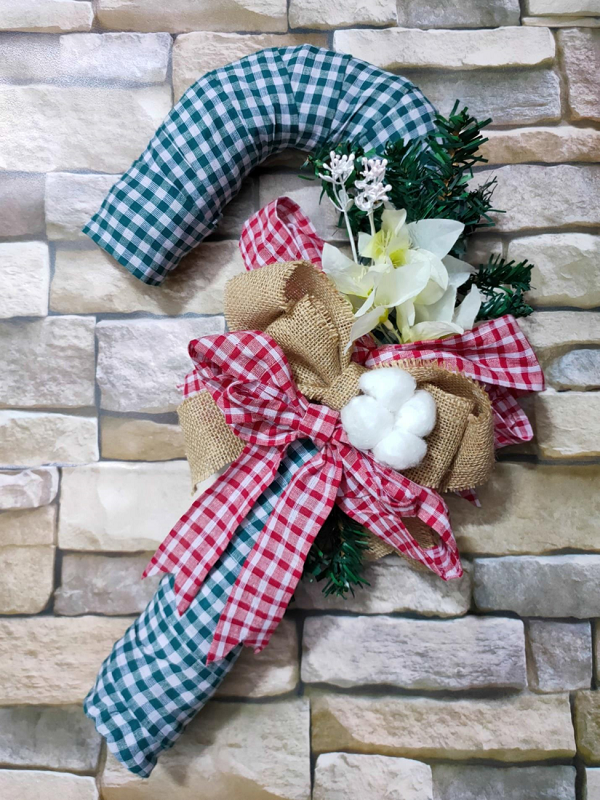 Did you like this farmhouse Christmas decoration? If so please share this candy cane wreath tutorial on social media. It will help us grow and share more tutorials with you. Thank you!