Spinach apple salad low in calories. Healthy spinach and apple salad for breakfast, lunch and dinner low in calories.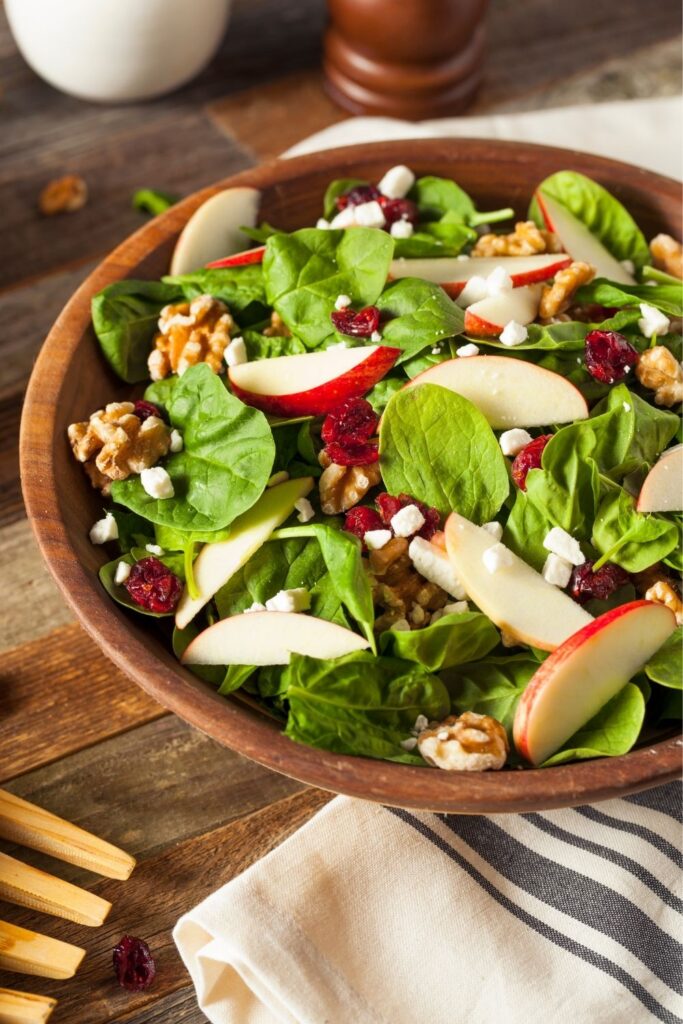 If you looking for a yummy and healthy meal but you are short of time, this spinach and apple salad recipe won't fail you. Besides the fact that is delicious, it has very few calories and you can enjoy it as a snack even before bed time.
This salad recipe is ideal for a light and healthy meal, with baby spinach, apple, and nuts, low in calories and perfect for those who keep a strict diet. You don't have to worry that you will put on weight, or that the meal will be hard to digest.
With a few simple ingredients and a quick apple cider vinaigrette, it's easy to modify with your favorite add-ins. Top it up with plenty of nuts, or your favorite cheese and this will be a great meal to prepare as often as you like.
You can pack all the ingredients separately and take them with you and prepare this salad during the lunch break, to enjoy the freshness of the ingredients.
You might like to check these recipes:
Healthy Greek salad with feta cheese
One pan egg and veggies brunch
Easy keto bacon breakfast tacos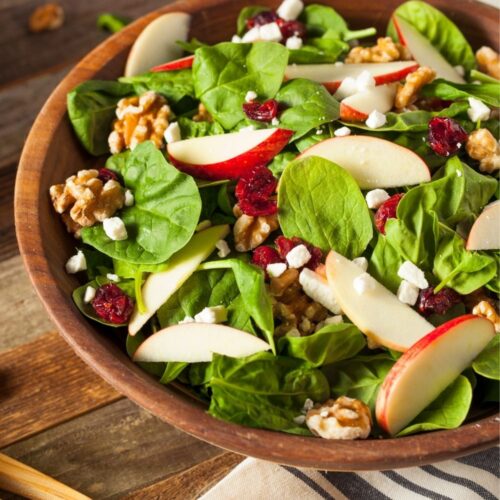 Spinach Apple Salad Recipe
Spinach Apple Salad Recipe.
This dish is ideal for a light and healthy meal, with baby spinach, apple, and nuts, this salad is crunchy, healthful, and delicious.   This traditional apple spinach salad is simple to create with fresh ingredients and quick apple cider vinaigrette, and it's easy to modify with your favourite add-ins.
Ingredients
5

ounces

fresh baby spinach

2

small apples, cored and thinly sliced

half

half of a small red onion, thinly sliced

1/2

cup chopped walnuts, toasted

1/3

cup dried cranberries

3

ounces

crumbled goat cheese
Instructions
APPLE CIDER VINAIGRETTE INGREDIENTS:

·      1/4 cup extra virgin olive oil

·      2 tablespoons apple cider vinegar

·      2 teaspoons honey

·      1 teaspoon Dijon mustard

·      1 small garlic clove, peeled and minced

·      a generous pinch of salt and black pepper

INSTRUCTION:1.     To make the vinaigrette. Combine all of the ingredients in a mixing bowl. In a mixing bowl, combine all of the vinaigrette ingredients and whisk vigorously (or shake vigorously in amason jar) to blend.2.     Toss the salad together. In a large mixing bowl, combine the spinach, apples, red onion, walnuts, dried cranberries, and half of the goat cheese. Drizzle the vinaigrette over the salad and toss to mix.3.    Serve. Serve immediately with the remaining goat cheese as a garnish, and enjoy!