Healthy Greek salad with feta cheese. Enjoy this delicious Greek salad for breakfast, lunch, or dinner and you won't have to worry about calories. By far the healthiest and easiest summer salad packed with nutrients and energy.
If you looking for a yummy salad that will give you energy and keep you full for a couple of good hours, healthy Greek salad with feta is a good meal that requires only 15 minutes to prepare. Besides, there are chances that you already have the ingredients in the cupboard or fridge.
You might like to read:
Citrus salad with lettuce and pistachio
Spinach apple salad low in calories
How to make a Scandinavian star ornament tutorial
Another alternative to feta cheese is tuna, which I love so much and the same ingredients blend extremely well with tuna chucks. If you like to, add a few breaks crumples, and voila! Feel free to share your thoughts about this Greek salad recipe by leaving a comment below.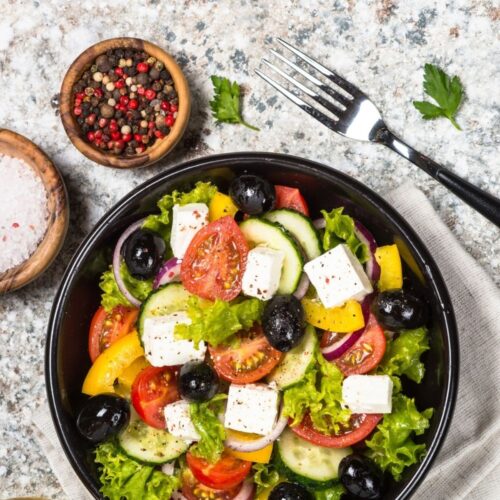 Healthy Greek salad with feta cheese
Healthy and nutritious rich salad for breakfast, lunch or dinner. Enjoy and share this recipe on your social media for future references.
Ingredients
3

tbsp

virgin olive oil

1

pinch

oregano

1/2

crushed garlic clove

1

squeezed lemon juice

1

tbsp

pomegranate vinegar

1

tbsp

ground black pepper

2

tbsp

capers

200

g

Greet Feta cheese

225

g

half chopped cherry tomatoes

1/2

sliced cucumber

20

black olives

5

chopped fresh mint leaves

1/4

chilli flakes

1

finely sliced medium size red onion
Instructions
1. We start by making the marinade first. Combine the olive oil, oregano, garlic, lemon juice, chilli flakes, vinegar, pepper and the capers.

2. Add the feta cheese in a small dish and pour the marinade on top of it. Let it sit for 1 hour and absorb the goodness pf the marinade.

3. After one hour arrange the tomatoes, cucumber, onions, and olives on a large place.

4. Cut the feta cheese in the size of dices and sprinkle on top of the other ingredients.

5. Drizzle over the marinade and the chopped mint. Enjoy!
I hope you enjoy this summer salad as much as we did because is a quick meal to prepare for your kids when you are stuck for cooking ideas.